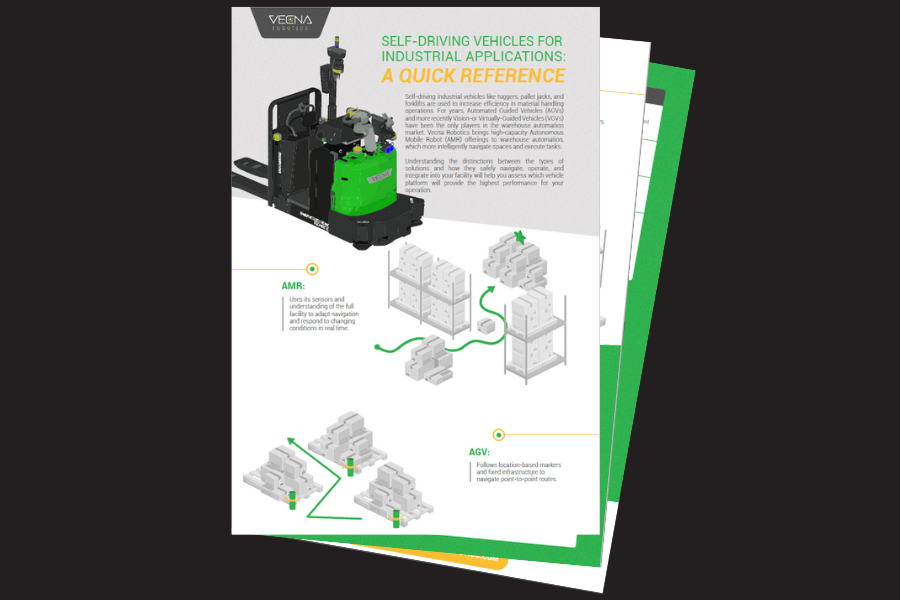 Self-driving industrial vehicles like tuggers, pallet jacks, and forklifts are used to increase efficiency in material handling operations. For years, Automated guided Vehicles (AGVs) and more recently Vision-, or Visually-Guided Vehicles (VGVs) were the only players in the warehouse automation market. Autonomous Mobile Robots (AMRs) have recently entered the scene.
Download the infographic to understand the differences among them and how they safely navigate, operate, and integrate into your workflow.
Self-Driving Vehicles for Industrial Applications
A Quick Reference to Understanding AMRs, AGVs, and VGVs
Vecna Robotics is committed to protecting and respecting your privacy, and we'll only use your personal information to administer your account and to provide the products and services you requested from us. From time to time, we would like to contact you about our products and services, as well as other content that may be of interest to you. You can unsubscribe from these communications at any time. For more information on how to unsubscribe, our privacy practices, and how we are committed to protecting and respecting your privacy, please review our Privacy Policy. By submitting this form, you consent to allow Vecna Robotics to store and process the personal information submitted above to provide you the content requested.
Learn more about autonomous mobile robots and AI-driven orchestration.